GSM warning and remote control systems
GSM warning devices, or SMS fault messager are often used wireless for remote control, because they represent a simple robust solution for monitoring plants and machines and are integrated quickly. The sensors are detecting housebreaking, fire, water, or other fundamental incidence and send a SMS by GSM transferring to one or more telephone numbers.
Modular extendable system with free configuration software
The GO-Central Module includes the controling processor and is responsible for the mobile communication. Up to 12 GO modules can be connected, using a BUS connection in the mounting rail. The fault messaging is executed by SMS and can be converted to call, fax or e-mail.
GSM alarm message for up to 4 calling numbers for each input.
up to 96 digital and 48 analogue inputs
up to 48 relais outputs (also 230 V) switching at most 96 digital inputs
configuration by RS232 or USB interfaces with free software
Because of the modular device concept of the GO modules, the best cost-benefit ratio, for different requirements, can be guaranteed. The GO central module includes controlling processing and communicating into the mobile phone network. With a BUS connection up to 15 GO modules can be connected to the central module without any cables. The number of input or output modules can be chosen, depending on the usage: e.g. digital and analogue I/Is or relais. But also local communication interfaces like RS232, Zigbee, Bluetooth and ISM remote connections are on the roadmap.

GSM fault messaging and monitoring systems by SMS
Fault messaging system without configuration software: The warning devices of the Scout series have four digital inputs. For Scout Active and Scout Professional versions are two extra relais outputs available. Another innovative product is the Scout protect. With it, rooms can be monitored directly directly. The main advantage compared to the other devices is its independence from the power supply and telephone cables.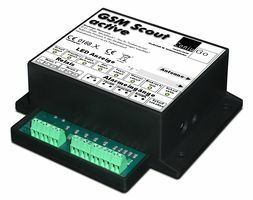 GSM Scout active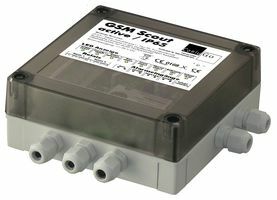 GSM Scout active IP65
The device is always ready for use, because of the GSM technology and standby battery. It is characteristic of the Scouts, that they are also configurable complete without PC. Recieving and parameter settings can be customized with your smartphone. our Scouts can be ordered with standard housing or IP65 housing (except for Scout Professional and Scout Protect).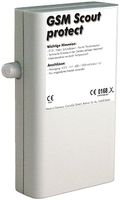 GSM Scout Protect
setting with phone book entries (no software required)
also available with 2 relais outputs
IP65 or top-hat rail housing
optional with GPS for tracking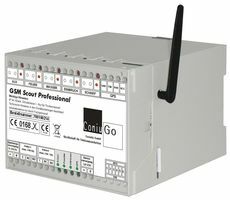 GSM Scout Professional
Configuration Manager
The warning devices can be customized user-friendly with the free, included PC software Configuration Manager. optional also a standard terminal program can be used.